Blogs
The Feed: Optimizing Restaurant Pricing with Colin Webb
In this episode, we'll chat about the history of dynamic pricing, how restaurants can double their profitability on third-party marketplaces, and how variable pricing can alleviate the many cost pressures facing food delivery.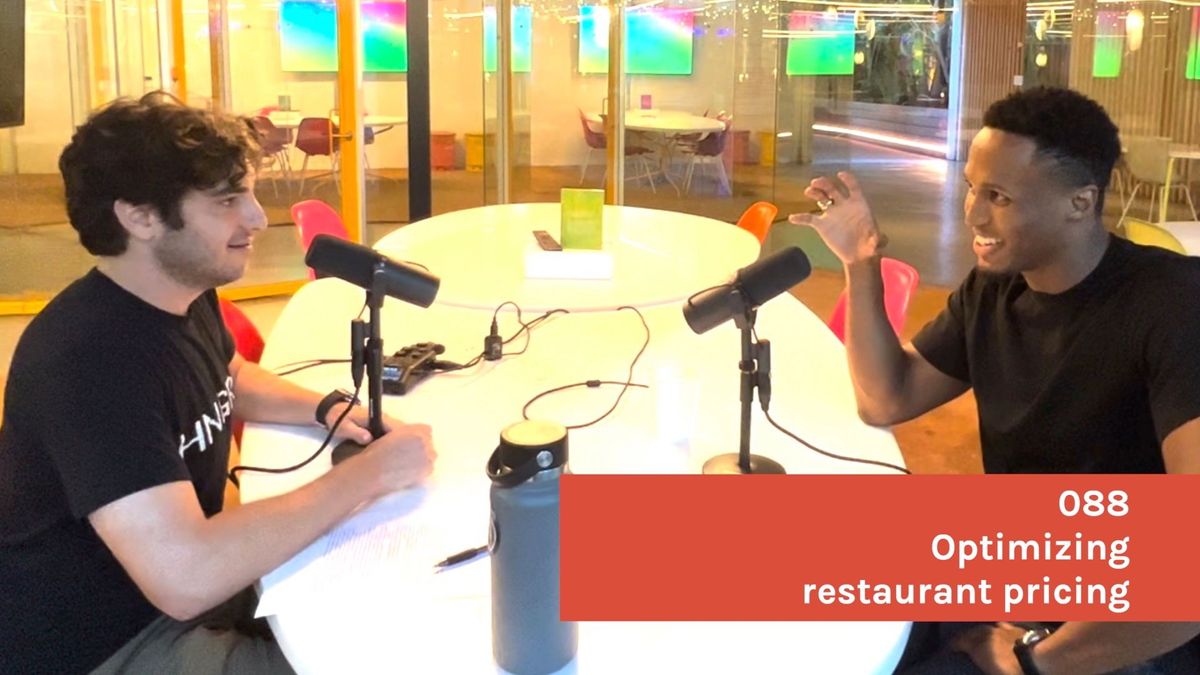 Full Transcript
00:01
Matt Newberg
What's up, world? I'm Matt Newberg from NGRY, and this is The Feed. Each episode, we'll dive into conversations with the industry insiders who are leveraging technology to shape the way we eat. On today's episode of the feed, I sat down with Colin Webb, co-founder and CEO of Sauce, a dynamic pricing engine that helps restaurants leverage their data to optimize online sales. In this episode, we'll chat about the history of dynamic pricing, how restaurants can double their profitability on third-party marketplaces, and how variable pricing can alleviate the many cost pressures facing food delivery.
00:39
Matt Newberg
Colin, it's great to have you here. Give us your background. You started MIT. You worked at cruise as an engineer, and then you took the red pill, went into entrepreneurship, I guess. Talk to us about that and kind of how you got into this crazy restaurant.
00:56
Colin Webb
It's so great to be here, Matt yeah, so I kind of studied as an engineer, did mechanical engineering and computer science at MIT, had worked on a variety of projects. I always loved building things growing up, so I worked on a variety of things, ranging from building drones and quadcopters and using AI to help drones fly to building different models for automated portfolio management. So working in fintech and figuring out how to use code to make people more money and to trade on different asset classes. And then afterwards, I was like, maybe I should actually use my mechanical engineering degree. And I ended up going and working for cruise through general motors, and I worked in their robotaxi program, building their self-driving cars. So I don't know if you've been to San Francisco anytime recently, but those cars driving on the road, I both released products onto the vehicle, particularly around lidars, but then also led a small software team for just rigorous testing for these vehicles.
02:08
Colin Webb
So huge engineering background. But then at the same time, both my co-founder and I, while we're both engineers and we met at MIT, we'd also worked in restaurants before we worked in the food business.
02:22
Matt Newberg
When was that?
02:23
Colin Webb
This was like, back in high school and even pre-high school. So family members started brick and mortar businesses. We ended up working at least myself, I ended up working in businesses owned by my family members. And so would literally understand kind of that long day that every single restaurant employee or every single food business employee has, where you're up pretty early getting ready, and you're closing shop pretty late in the evening and obviously serving customers all day. Anyway, through this, realized that while we've come a long way as engineers, we've worked in restaurants before, and we'd seen a whole industry that was digitizing faster than ever. And essentially every single restaurant business, every single food business was becoming an e-commerce company, which meant you had so much more data and technology, in fact, more than most people knew how to be able to manage.
03:26
Colin Webb
Right? And it's not like every single restaurateur has a secret team of data scientists or a secret team of engineers to help them sell in smarter ways. But it turns out a little bit of optimization can go a long way. And I'd worked on a bunch of different optimization problems in the past, whether it be optimizing how cars drive on the road by themselves or optimizing portfolios or drone travel and drone flight. Turns out a lot of that similar kind of data and optimization opportunity is now present in the restaurant space, which is just embedded with so much technology.
04:03
Matt Newberg
Amazing. Great story. And where were these restaurants, by the way?
04:07
Colin Webb
So for me, I grew up in Georgia, kind of like northeast of Atlanta is where I grew up and my co-founder Nene grew up in, so interesting.
04:19
Matt Newberg
So I'm thinking the thing that's popping up in my mind are those old-school Saber computers that American Airlines, I think, had back in the day to do dynamic pricing, whatever year that was. But let's talk about other industries outside of restaurants, kind of the history of dynamic pricing, yield management, whatever. I mean, there's lots of terms, right?
04:44
Colin Webb
Yeah.
04:46
Matt Newberg
What are the key strategies that these industries are kind of leveraging to improve profitability, that restaurants are kind of the last kind of industry to adopt?
05:02
Colin Webb
Yeah, it's actually really interesting because history of dynamic pricing actually goes way back. Beyond airlines and beyond hotels, beyond Uber, all the way back to the days where everything was dynamically priced. When if you wanted to trade something, you haggled for the price, the merchant would say, okay, I'll give you a discount. I'll give you a discount. Or yeah, you're in the bazaar, you're looking like you're about to spend a bunch of money. So let me show you the expensive items, let me show you what you can get as a bundle here.
05:36
Matt Newberg
Right.
05:38
Colin Webb
And so it's interesting because back in the day, most things were dynamically priced. And then if you saw during the spread of the 19 hundreds, especially with kind of big box retail, a lot of things became static priced because we had the ability to print out prices and actually have those prices.
05:59
Matt Newberg
You couldn't haggle someone you weren't going to Best Buy and be like, yeah, let me get you down to 1000. Maybe you go into a car dealership and you talk your dealer down.
06:09
Colin Webb
Exactly. And so we saw the massive scaling up of these kind of big box retailers. Also restaurant chains, before restaurant chains weren't a thing 200 years ago.
06:23
Matt Newberg
Oh boy, what has happened?
06:25
Colin Webb
They've only been a thing of the last couple of last, I guess 100 years, even a couple of decades. Right. And so if you start thinking about it that way, as these restaurants like McDonald's, etc., scaled up, they had these printed menus that it was actually just logistically difficult to change the price now because you wanted to have an ability to print out a thousand menus for a thousand McDonald's or a thousand Subway locations, right? Or you name it, restaurant. And so dynamic pricing went away. And now you start to see industries that have come online again, where you remove that bottleneck of not being able to change prices in response to changes in supply and demand. So when airlines came online, or when hotels came online, when taxis came online as Uber, you started to see those prices change dramatically because the markets inherently changed dramatically.
07:24
Colin Webb
But now you had a medium to change those prices. And so with restaurants, you're starting to see restaurants take that same step as e-commerce took and as retail took when it came into the e-commerce landscape, where they're now coming online. And we're still dealing with these same market forces that we've always been dealing with in terms of supply changing all the time and demand changing all the time. And so now you're starting to see folks faster and more frequently price correct, which is inherently dynamic pricing.
07:55
Matt Newberg
I know you talked something on the panel recently about Amazon. How does that work, given it a marketplace and a first-party seller? Then when I come back to restaurants but just curious, thinking about as a marketplace, how much of that goes straight into Amazon's pocket and how much of that actually goes into the merchant's pocket?
08:17
Colin Webb
Good question. I'm not entirely sure the exact agreements that Amazon has with each of their merchants. I'm sure there's probably some variation there. But I mean, Amazon deploys a bunch of really crazy pricing schemes that are kind of rooted in psychology and data, right. Where everyone feels like Amazon has the cheapest prices across the web, when really that's no, it's not necessarily the most expensive. But for some items, for example, items that you know you could get anywhere else, they may have the cheapest price for those particular items, but for items where it's not as easy to find, where else you could get them, you may actually be paying more on Amazon.
09:04
Matt Newberg
Or they know that they see, like, a spike in demand for air filters during the crazy fires in the mountains.
09:13
Colin Webb
Exactly.
09:13
Matt Newberg
And I know this because I had one sent to me in the middle. But yeah, you just go on there and then you just accept it.
09:21
Colin Webb
Yeah. So it's both the spikes in demand that obviously are going into their algorithm for how they price, but also the inverse of that. So the discounts that can get you Matt to go and like, I wasn't going to buy this, but I might as well.
09:41
Matt Newberg
We all know we ended up with too many air fryers and Instant Pots during Black Friday sales.
09:48
Colin Webb
Exactly. Oh, well, free as well. I might as well get that, right?
09:53
Matt Newberg
Nothing's free. If there's anything that doing this work has taught me, nothing is free.
09:58
Colin Webb
Yeah.
10:00
Matt Newberg
Okay, let's talk about how hard it is to do this in the restaurant space, because we talked about other industries coming online. Now, the restaurants are online. Obviously, QR codes on menus make that easier for sit down. Right. I could scan the menu, and I won't remember what the price was versus reprinting the menu. That changes the dynamic. Right. So I guess let's define the contours of the restaurant online and offline and kind of what those boundaries are and kind of why this is suddenly happening now.
10:38
Colin Webb
Yeah. So online versus offline, I think we have to kind of understand the nature of this transition in the restaurant industry, where we're not entirely online. Like, there's a handful of restaurants. The Ghost kitchen is completely virtual. Brands are entirely online. But the vast majority of restaurants, restaurant groups, restaurant chains have made a dramatic shift. But it's not 100% yet.
11:03
Matt Newberg
Yeah.
11:03
Colin Webb
So if you were to look five years ago, most restaurants have probably 5% max of their sales, go through online channels. Everything else is just kind of in-store transactions, whereas now and accelerated by COVID. You have a lot of restaurants in the ten to 40 or 50% range where you've been an established restaurant or you've been an established restaurant chain, but now you have DoorDash or you have Storefront or you have your QR code, and you have so many of your kiosks.
11:41
Matt Newberg
Like, look at Shake Shack's kiosks.
11:43
Colin Webb
Exactly.
11:43
Matt Newberg
If you exclude the kiosks, it sounds normal, but when you include the kiosks, it's like, damn, this is a digital.
11:49
Colin Webb
Yep. Yep. Exactly. So you're starting to see the more tech-forward restaurants who've already made that large digital switch, meaning they have a higher percentage of their sales. Digital start to look definitely more urgently into dynamic pricing solutions because they now can. And it's something that ends up being extremely powerful when it comes to being able to drive up profits or being able to convert more customers, being able to overall affect the metrics that you care about for your business. In terms of online versus offline, I would say most of dynamic pricing in the restaurant space, at least high-frequency dynamic pricing is happening online. Of course, the low-frequency dynamic pricing is still happening, but it's happening every single time someone's supply costs raise and reprint a menu. Exactly. And so you go through the cost of reprinting an entire menu to save your menu from being entirely unprofitable because the cost of your corn and your beef have changed dramatically.
12:52
Colin Webb
But you'll do that maybe every couple of months.
12:54
Matt Newberg
Right. Or if you're like a tasting menu that does some crazy thing every new day, every day or so. Like, some restaurants, they put the date on the bottom. It's like, oh, we just printed this. It's like, really farm to table. It's like instant farm to table.
13:10
Colin Webb
Yeah, those are the fancy ones.
13:13
Matt Newberg
That one, they probably already marking it up so much, it's not really that important. Okay, so let's go into sauce. I think we've given a general primer on what dynamic pricing is and kind of where this can take effect. Yeah. What is the pitch to a restaurant tour and then maybe talk about some of your partners? Because you recently announced a lot of partners. Yeah. Let's start with that.
13:44
Colin Webb
Yeah. I mean, to a restaurant tour, it's pretty simple. How much delivery are you doing? How much online sales are you doing? Do you want to be twice as profitable through those channels?
13:55
Matt Newberg
That's the pitch, yeah.
13:57
Colin Webb
Do you want to be twice as profitable through your delivery channels? Through your online sales channels? If so, then you should be dynamically pricing. Or do you want to convert more customers? We have kind of two groups of restaurants that choose to onboard our platform. Usually it's like you want to be more profitable because your food costs are rising. Your commissions on delivery platforms are things that you're challenged with, struggling with, trying to figure out how to make that channel a real revenue.
14:24
Matt Newberg
It's a growing percentage of your sales.
14:26
Colin Webb
Exactly.
14:26
Matt Newberg
And it's eating more and more into that pie that's getting squeezed by labor and food.
14:32
Colin Webb
And you're no longer in a world where you thought you could just shut it off. You thought you could just turn off DoorDash. You thought you could just turn off Uber Eats.
14:39
Matt Newberg
It's like a drug. Yeah.
14:41
Colin Webb
Literally. I mean, it's become so important and so critical that you're not only on these platforms, but successful on these platforms. And so how do you be successful now? You can start looking at smarter pricing strategies like dynamic pricing. I would say, on the contrary, you have a group of restaurants who they're trying to grow transactions. They're trying to convert more customers and actually grow their business. Maybe they're not entirely focused on being more profitable. They just want to get more orders. We can use dynamic pricing that way as well. Typically, we'll kind of identify what group a restaurant is in and then sell them either version of the dynamic pricing product.
15:26
Matt Newberg
Right. So the hypothesis on the ladder of getting new customers up, people are, like, checking you out, but they're like, I'm not going to buy this burger because it's too expensive.
15:34
Colin Webb
Yeah, exactly. And that's actually one of the things that a lot of restaurateurs don't quite realize, because they're not as experienced with being ecommerce companies.
15:45
Matt Newberg
Right.
15:46
Colin Webb
But because now that they are ecommerce companies, they now have a conversion rate. They have a click through rate. Where try explaining this to where not everyone that goes and visits your page converts to make an order. Maybe it's 20% of your visitors on Uber Eats actually go to make an order. Maybe it's 50% on DoorDash. And so what do you do about the other 80% on Uber Eats? What do you do about the other 50% on DoorDash? The people who are just browsing, who are looking saying, this is an interesting concept. Maybe I'm not ready to eat right now. Maybe I don't want to order right now. How can you get half of those people to convert and decide to order during that time?
16:30
Matt Newberg
Are you getting that data from the marketplaces? Do they tell you how many people land on your page?
16:34
Colin Webb
Yeah, exactly.
16:35
Matt Newberg
Got it.
16:35
Colin Webb
Exactly.
16:36
Matt Newberg
So you can see that result improve.
16:38
Colin Webb
Yeah, so we can see that. We can see that result improve. We can see how many people visited a particular site or a restaurant's page. We can see how many people went through to make a purchase for one of the platforms. We can actually see how many people added something to their cart. And so starting to get data points like these are really important for illuminating, for a restaurant. Hey, you have a menu item that's $15. And if you were to decrease the price of that item to $14, you might get a 20%.
17:13
Matt Newberg
Yeah. What's the elasticity of demand? You have to basically run these experiments in real time to figure that out.
17:18
Colin Webb
Yeah, exactly. Pricing is so interesting that you see varying levels of elasticity by price tier and by categories of items, for example, where the change between $14 and $15 is way more significant for demand than the change between $16 and $19.
17:44
Matt Newberg
So you just find that when it.
17:45
Colin Webb
Comes to food exactly.
17:47
Matt Newberg
Is that a universal tipping point or that you're just giving me random numbers?
17:51
Colin Webb
This is aggregate from an experiment that we ran. An experiment that we ran, literally changing prices of food items. A, B, testing and finding out, okay, well, if you were to increase the price of this item this much, when do you see a demand drop off? Right. And so you see that between 14 and 15, but 16 and 19, you might not see that at all.
18:16
Matt Newberg
Wow. And there was a thing called the penny gap. It was a term in Ecommerce 1.0, which was, like, as soon as you start charging a penny, like, going from zero to a penny is, like, insane. Drop off anything, like, above that, obviously, there's, like, a smoother curve. Right. And it seems like that you found your gap here. It's in the $15 $16 range.
18:42
Colin Webb
Yeah. We actually found a variety of gaps. We found one around 14 to 15. We found one around, like, $7. Around $9? Around 19. Like, a handful of different price points.
18:55
Matt Newberg
For size and entrees. Basically categorizing them by, like, drinks, size, entrees, et cetera.
19:01
Colin Webb
Yeah.
19:01
Matt Newberg
This is just aggregate in terms of just any item.
19:05
Colin Webb
Yeah, any item. But obviously, given the prices of these items, largely, like, sides and entrees interesting.
19:14
Matt Newberg
What are the tools that you're providing? And you said two X in profitability. What sort of results are you seeing?
19:24
Colin Webb
Yeah. So for a restaurant that gets let's say a restaurant gets $20,000 a month in third party delivery sales. Right. They may be able to make $1,000 a month, maybe $2,000 a month in additional revenue. That's coming in as profit just from taking a basic surge pricing type of approach. That's pretty substantial because that restaurant may already be at a 5% profit margin, and now you've added another 5%. So now they're at a 10% profit margin. Or in some cases, we've actually seen some restaurants go from having a 10% profit margin to a 20% profit margin. Right.
20:06
Matt Newberg
This is overall across their entire business, across any of the channels that.
20:12
Colin Webb
They have dynamic pricing on.
20:13
Matt Newberg
Oh, just looking at digital. Digital PNL.
20:16
Colin Webb
Yeah.
20:16
Matt Newberg
Okay.
20:17
Colin Webb
But for a restaurant that's mostly digital, or for a restaurant that's 50% digital, then it's pretty substantial.
20:23
Matt Newberg
Right. Very cool. And then the tools are so you recently launched the self-service product. What are the basic tools that you're providing? Restaurateurs or their tech consultants who understand CVR and stuff to work with.
20:43
Colin Webb
Yeah, the most basic thing we provide is just demand-based pricing. Most restaurants are using us for demand-based pricing, where they essentially connect us with any of their aggregator platforms. So whether it's like Olo or whether it's Chowly, it's Checkmate, Otter, a handful of aggregator platforms, we essentially just connect in ten minutes. It takes a few minutes of their time to get that connected. And with that, they're able to deploy a demand-based pricing strategy. So our system will automatically go and look at all of their historical sales. Some platforms, we can pull back years of sales data, which how many restaurants are looking at years of their sales data on a regular basis to make data-driven decisions. And they can click play and run a pricing strategy right away that runs automatically on its own, will update the prices based on their demand, based on when they're really busy, based on when they're least busy, and they don't have to worry about it at all.
21:51
Matt Newberg
Damn. Wow. Yeah. And so you're integrated with people like Chowly. It's a checkmate. And then you have partnerships with Uber, Eats, DoorDash, et cetera. Just real high level. We'll dive into more of this. But what is the value to these different players? Why does Chowly want to offer self serve, sauce dynamic pricing to its restauranteurs? How does that help its business and then the marketplaces? Why do they want restauranteurs turning on sauce dynamic pricing?
22:27
Colin Webb
Yeah, I would say, I mean, largely for all these businesses, it's either the profitability focus or it's the growth in transactions focus. So for a lot of the aggregators, their restaurants are dealing with this big challenge of having insane food costs compared to a couple of years ago. Having these hard to deal with delivery platform commissions. Having delivery platforms tell them that, hey, you should lower your prices. Right. And so what do you do with that? How can you be successful on these platforms? But also make up those margins that you desperately need to make up. And so to offer a complex solution like dynamic pricing or like smart pricing, it's pretty powerful for any of the aggregator plays in which they have a bunch of restaurants who are all on these delivery platforms. And this is something that helps them be more successful on the delivery platform, more profitable, and hence more successful on an aggregator platform for the marketplaces themselves.
23:37
Colin Webb
Oftentimes we've seen major marketplaces look at things like order volume or look at things like basket size in terms of hey, if you can use dynamic pricing strategies to be able to help a restaurant gain more sales, help. A restaurant, offer more discounts, lower prices that get more orders or higher basket sizes. That's going to be something that keeps them with us, keeps them with our marketplace.
24:05
Matt Newberg
Right.
24:05
Colin Webb
And so dynamic pricing can do both.
24:08
Matt Newberg
Retention and GMV average basket size.
24:12
Colin Webb
Exactly. Because, I mean, you've been to many restaurants, and I'm sure there's times when you've looked at a menu item and you're like, wait, I wasn't going to get this dessert, but it's only $5. I wasn't going to get these extra fries, but I'll get a discount if I do, so I might as well add something new. Right, right. And so there's a lot that you can do with pricing in terms of being able to get people not only to order more frequently, but to order larger amounts.
24:41
Matt Newberg
Yeah. If I'm in a group of people, I do this thing. I have a friend shout out, you know who you are. He and I will go to a restaurant. We'll order, like, hedge our bets on a bunch of different things, and he's taking different pieces of different people's dishes just in case the thing we order isn't good. So we have, like, a quarter of this person's mac and cheese or this person's ribs or whatever. We're going for this person's salad. We're going to split this at the table. Or we can just do it all family style, but yeah, anyway. Okay, walk us through, I guess are there any case studies we can talk about specifics I mean, I guess we can generically talk about specific restaurants and then maybe talk about how you control how do you actually run this experiment in a way that is a true experiment?
25:39
Matt Newberg
Because to me, in my mind, it's like there's so much seasonality, there's so many external factors. Right. We just had a storm on Sunday. A hurricane. I was getting push notifications, by the way, from Uber and DoorDash, and I think they put out press releases saying that they weren't delivering.
26:02
Colin Webb
Did you feel the earthquake?
26:04
Matt Newberg
I didn't feel the earthquake. Did you feel it?
26:06
Colin Webb
Oh, yeah.
26:07
Matt Newberg
I was like, oh, whoever's on the mic for this app, like, the notifications is drunk right now because I don't feel anything.
26:15
Colin Webb
I see. No, our whole building was, like, swinging I'm sorry.
26:21
Matt Newberg
Well, I guess I was on the phone with my family at the time. Is everything okay? I'm like, yeah, I just got a text about an earthquake, but I think the city is just messed. Their tech stack is just broken. But anyway, back to the KPIs, the case study. Is there something you can talk about? And then how you design that experiment?
26:44
Colin Webb
Yeah, so one of our enterprise clients, Piata Thai and Street Food, they ended up when they tested, they broke up their stores into a test group and a control group.
26:56
Matt Newberg
Okay.
26:56
Colin Webb
So being able to put over 20 stores in a test group on dynamic pricing, comparing that during the same time period as the control group of stores that weren't on dynamic pricing wow.
27:09
Matt Newberg
How many units how many total units do they have?
27:12
Colin Webb
Right now? They're at 52.
27:14
Matt Newberg
I see. So a little bit under half.
27:16
Colin Webb
Yeah, a little bit under half. Yeah. Basically broke them up into test group and the control group. And then essentially, as they are running dynamic pricing, they wanted to look out for, well, are we one more profitable on these channels? But then also, are our guests continuing to order? That's the biggest question that we get from restaurants when it comes to dynamic pricing, is, will my guests stop ordering from my platform? And that's one of the biggest myths that we see around dynamic pricing as well, where we don't see much negative feedback or pushback from guests when restaurants start changing their prices, especially online delivery platforms.
27:56
Matt Newberg
Wow.
27:57
Colin Webb
In fact, 99% of restaurants don't hear anything at all in terms of when they start dynamically pricing. And so they looked at this for both their test group and their control group and found that not only did they double their profit margins, but when they compared it with the control, they continued to see strong sales results and strong performance across all the dynamic pricing stores. And so that was an experiment that started last early last summer, and now they'll be coming up on a year of all of their stores across their entire portfolio, dynamically pricing. And they're doing tremendously more revenue now than when they first started. So wow. Continued sales growth, continued order growth, but also double profitability.
28:50
Matt Newberg
When you're describing this, I keep going back to my old school. I'm not that old, but I guess an old soul. But I think about this Amazon thing that happened a long time ago where there was a book that became like, $10,000 or something because basically they were scraping Barnes and Noble's website or they were scraping some other bookstore, and you basically have a bunch of algorithms feeding off of each other. Right. And so I guess my question to you is in telling you this story and half describing it is, do you ever start looking at competitors pricing to figure out where the threshold is and how much of third party data outside of just testing prices within the restaurant, are you feeding into any external kind of environmental data? Whether it be competitive data or we could get into weather patterns or other historical things?
29:52
Colin Webb
But yeah, so I would say right now we scraped a lot of competitive data. We have gigantic data sets of multiple menus from restaurants nationwide and restaurant businesses across the entire nation. And to your point on Amazon, I think one of the very first things we implemented were thresholds for which we would never surpass.
30:18
Matt Newberg
You're never going to sell a burger for, like, $100. Just say an item for a fast casual restaurant should never exceed this amount of money.
30:28
Colin Webb
Yeah. So usually we do it based on a percentage. I think right now, we have it set toward you'd never increase or decrease the price of your item more than, like, 40%. And we never set $0 prices. $0 price.
30:50
Matt Newberg
Yeah. Free fry somebody's the end of the day. We can't sell fries the next day. You got to get rid of them somehow. You got to solve the food waste problem.
30:58
Colin Webb
I know, right? But yeah, it's interesting because when you start looking at you compare competitive menu sets, you start to see an item that's like chicken finger plate. Right. And this chicken finger plate might be $15. And then you start comparing it against other chicken finger plates. Maybe you find one that's $12. Maybe you find the one that's $20, and then maybe you find one that's like $150.
31:22
Matt Newberg
That's like the catering.
31:23
Colin Webb
It's the catering, but it's the exact same price. Right. It's the exact same not the same price, but the same item name.
31:32
Matt Newberg
Right, but it's just lacking the context.
31:34
Colin Webb
Exactly. You're just lacking the context that this is a catering item, and obviously somebody looking at that menu would know, okay.
31:41
Matt Newberg
Yeah, this is a big platter picture where the other one is just a single nugget.
31:46
Colin Webb
Exactly. And so that was one of the things that we discovered really early on. We started building this automated pricing system that could handle the complexities of food prices. But, yeah, we've looked at a bunch of competitive data. I would say we've used a lot of it in terms of our pricing system and its design, but in terms of the regularly day to day or hour to hour changing prices, a lot of it is actually demand based. So a lot of it's looking at both your historical demand and also your recent demand in terms of this Wednesday at noon, how many orders are you going to end up selling and how many orders could you end up selling at this new price? And then when that noon time turns to 01:00 P.m., how can we update our assessment here? And so we've got these hourly assessments of demand that are coupled with pricing that we continue to build upon as a feedback loop.
32:49
Matt Newberg
Very interesting. So I feel. Like right now being earnings season, hearing all these CEOs pontificate about AI. A lot of words like generative AI get thrown out there, which is, like, for me, as a creator, I use mid Journey. A lot of my readers will know that my JPEGs are all Mid Journey JPEGs. And maybe I will not use Chat GPT to write my articles, just for the record. Okay. I do not use it. Okay. But maybe for notetaking or something. But anyway, how would you describe the types of models you're building within the broader AI kind of framework?
33:32
Colin Webb
Yeah, we build a lot of different types of models. There's two ways to look at it. There's the ongoing and kind of active pricing system, and then there's the data analysis and how you parse things and how you evaluate the results. Right. And so our active and our ongoing pricing system is using a variety of things. It's using obviously complex and sophisticated models to be able to define demand, define what that price should be. But it's also using user input rule sets, essentially, frameworks that our Restaurateurs have when setting up dynamic pricing. I see such that you can have this model that works, but in order for it to work for the restaurant, you need to be able to understand how that restaurant works and what exactly they want in their pricing system. So, oh, we want to stay between zero and 20% from our base price, or we want to stay between negative 10% and 10% from our base price.
34:38
Colin Webb
Exactly.
34:39
Matt Newberg
Right. Based on the profitability of a specific menu item.
34:42
Colin Webb
Exactly.
34:42
Matt Newberg
Something you can't glean by just scraping their DoorDash.
34:45
Colin Webb
Exactly. Or for our business, we actually want to just do dynamic pricing. Late nights. We have some restaurants that only do dynamic pricing between 10:00 P.m. And 04:00 A.m., or only do it on the.
34:57
Matt Newberg
Weekend when people are just not paying attention. They just be like, I'm on the couch. I want that pint of ice cream, whatever that stoner food is.
35:06
Colin Webb
Yeah, our drunken food. I need some pizza right now.
35:11
Matt Newberg
I've never been there.
35:14
Colin Webb
Yeah, nobody's been there.
35:17
Matt Newberg
On the pizza front. Domino's being like, kind of the OG tech company in the restaurant space. Did they do this?
35:29
Colin Webb
I'm sure they do a lot of work around their pricing themselves. In terms of hourly demand based pricing. I'm not entirely sure where they are there, but obviously, given that they just partnered with Uber Eats, is that correct?
35:44
Matt Newberg
Right.
35:44
Colin Webb
For the marketplace, Uber Eats seems like they're doubling down in their just online delivery. Uber eats delivery. I think there's a lot of opportunity for them to get smarter about how often they change their prices.
35:56
Matt Newberg
Someone actually, we have this WhatsApp group for some of the hungry subscribers, and someone shared a bar in Barcelona, and there's apparently software you can buy for your bar where they dynamically change the price of the drink as more people order it or something. And it's like this Wall Street thing. It's like literally ticker symbols where it's like either vodka shots instead of stock tickers or different brands of alcohol. And it's like a fun game, some kind of perverse game that people are playing inside of these bars. Have you seen this?
36:31
Colin Webb
I've not seen it in person.
36:33
Matt Newberg
But you've heard about it.
36:34
Colin Webb
Variations of this story. So like a bar in Barcelona or a bar in Sydney, Australia, or a bar in York yeah. That know prices their beers based on low demand beers.
36:47
Matt Newberg
Hey, brilliant idea. You're pressuring people. Like you said, if it's cheap enough, I'll do the shot. Whatever.
36:53
Colin Webb
Definitely. Which I think there's a lot to learn from there, especially with regards to how restaurants deal with, like you mentioned, food waste earlier, where even whether it's mom and Pops or whether it's massive restaurant chains, at the end of the day, you're throwing away a lot of food, right? You're throwing away so much food that you can actually sell that for cheaper and make a profit from rather than throwing it away, rather than paying for even the garbage costs and wasting food.
37:25
Matt Newberg
We've seen a lot of these platforms pop up. I think the one that's called Good to Go or Good to Eat. I did an interview with the founder of Flash Food, which I think is great for groceries. They're not using intelligent systems like you're building. They're basically retailers who would normally walk around the clerk step would just go and reprice things manually and have to go tag by tag and put things on sale and just see when the expiration date was happening. They're just basically doing it from an yeah, exactly.
37:57
Colin Webb
It kind of reminds know you went to Wharton. I used to go and I used to take the megabus from Boston all the way down to Philly, and I sometimes got the one dollars megabus.
38:13
Matt Newberg
Oh my God. I took the megabus and the Chinatown bus to New York from Philly.
38:21
Colin Webb
So yes.
38:24
Colin Webb
Yeah, I mean, usually they're like, you might pay $40 or whatever for a round trip, but sometimes you could actually get like a one dollars megabus. And I'm not entirely sure what their pricing model was like there, if it was more of like a hey, promotional take this megabus or if this seat is going to go empty. So we might as well every time we have a seat that we're sure is going to go empty, we might as well just sell it for one dollars.
38:48
Matt Newberg
Yeah, well, the marginal cost is zero. Right, but that doesn't ex I mean, it's not zero in food, right? There's some cost unless it's fries at the end of the day and they're going to go soggy exactly.
38:58
Colin Webb
So if the food is going to go bad, you've got to get rid of it no matter what but just.
39:04
Matt Newberg
To do a quick rant. Okay. One of the things, though I feel like that's missed in the food tech space is that people start to apply a lot of the analogies of the travel and hospitality industries haphazardly to food, thinking it's one to one, because they don't. Because in the game of travel and the game of hospitality with hotels, the marginal cost of a hotel room is just the cost to clean it. In airlines, it's virtually zero. So the floors are very different and you're not dealing with this very complex operation that is food preparation. Right. Sure, you have fixed overhead of staff and your rent and overhead, but there is an actual marginal cost that you need to account for when it comes to food. You can't just apply the same analogies with Widgets or travel or whatever it is and think that there's no marginal cost.
40:09
Colin Webb
Oh, totally. It's a very different game. One that has a psychological component, but then also an operational component as well, where psychologically, you've got to figure out what price is going to get someone to buy right. And how someone looks at a menu item, what items they look at together versus separate, what items they are more reactive to versus less reactive to. What are their high retention items that will get them to come back the next time. Right.
40:44
Matt Newberg
Like once you try our fries, you won't stop.
40:47
Colin Webb
Yeah, exactly. Once they try the fries, they're hooked.
40:50
Matt Newberg
To make them really cheap.
40:52
Colin Webb
Exactly. Operationally, it's interesting because for any restaurant, they've got to pay their staff members. And usually the cost of food are pretty decently low compared to the price that they're selling them at. Usually restaurants have a 25% to 30% cost of goods sold in terms of if you're selling something for $10, it's going to take you $3 of actual food materials. So the rest of that is operational. It's labor. Right. Which means if you have a chef in the kitchen and that chef is selling five burgers, you're going to pay that chef the same amount whether they're selling five burgers in an hour versus whether they're selling one burger in an hour or whether they're selling 1020 burgers in that same hour.
41:47
Matt Newberg
Right. But then the customer might come into the restaurant and start ordering, and then you need to adjust.
41:53
Colin Webb
Exactly. So you need to adjust. And you don't want to be in a situation where you're just selling one burger an hour. And so if you ever are trending toward that situation, maybe there's a world where you can reduce that price 20%, 30% right. And sell five burgers. Those five burgers are still going to be net way more profitable than just selling that one burger for full price. And so I think a lot of restaurants are more and more starting to realize this, especially when they come onto systems like ours with dynamic pricing, but starting to realize how operationally the strategy has to be for pricing.
42:36
Matt Newberg
Right.
42:36
Colin Webb
Another example is we see oftentimes restaurants when they get really busy taking longer to deliver their food or to serve their guests. So if you're ordering something on DoorDash, the worst thing is you place an order and it says, okay, your meal is going to get here in like an hour. Right. And then you wait an hour. You're super hungry because you're hungry when you order.
43:01
Matt Newberg
Yeah. Now you're hangry.
43:02
Colin Webb
Now you're hangry. You're extremely hangry. And it gets there and it's cold. Right?
43:09
Matt Newberg
Yeah. Because they had to deal with the people who were actually they're prioritizing the people coming into the restaurant.
43:16
Colin Webb
Yeah, they're dealing with the people coming into the restaurant. They're trying to figure out their operations. They're trying to just throw things into the bag. They may miss something. Right. And so we actually see when restaurants are able to take a smarter approach and have those high demand hours be priced a little bit more, then you could actually use that as a way to throttle orders and use that as a way to serve guests faster.
43:41
Matt Newberg
Right. As opposed to turning it off altogether.
43:43
Colin Webb
Exactly. As opposed to turning it off. Some restaurants just cut it off and say, okay, you can't order delivery. You can't order takeout, which a loyal customer is not going to want that they're going to want to be able to order from you anytime.
43:56
Matt Newberg
Right. Make it worth everyone's while, essentially.
43:59
Colin Webb
Exactly. And also get the food hot, fresh, and fast.
44:03
Matt Newberg
So that must require you having more data on what's happening inside the four walls. Or am I overthinking this?
44:09
Colin Webb
I would say to get the best approach there, yes. Right now, I think we're pretty much at like phase one of dynamic pricing, where we do a lot of demand based pricing. A lot of these things you can approximate with looking at historical and recent demand, but it is based on how many orders are coming in per hour and how does that vary per location, etc. We take a location-specific approach. I would say when you start to get to phase two of dynamic pricing, which is where we're headed, you can incorporate even more tactics. So looking inside the four walls, looking at how many people do they have staffed at this point, like, what's their actual production output of this restaurant, looking at how are my food costs trending? If I know that the price of chicken went way up, how should that affect all of my chicken items, how are my competitors pricing?
45:10
Matt Newberg
Should I inputs?
45:11
Colin Webb
Yeah. If the competitor next door has a deal or promotion that they just released, should I be able to have my restaurant follow suit? Should I also give a customer-specific approach to pricing, which is now getting back into the Amazon play, where as these platforms evolve, as the delivery platforms evolve and online services evolve, you'd be able to actually offer unique and custom deals to customers to get them to come back and order more. We're starting to see some early signs of that with loyalty programs, but I think there's going to be way more activity there.
45:47
Matt Newberg
That's fascinating. That's a good segue to my next question, which is, like, we've talked a lot about Marketplaces, but we haven't talked about one P. Right. First-party channels, including digital ordering boards, like the kiosk that we see at Shake Shack or the drive-through ordering boards that are increasingly digitizing. So obviously you said you're at phase one, but how do you think about so in those forms where you're inside the restaurant and you're able to essentially authenticate yourself as a customer and you're in a completely different channel? How do those lessons that you learned from demand-based pricing phase one sauce in its current state, how did those change? When you start looking at the four walls and digitizing those? Yeah.
46:44
Colin Webb
It's funny because most restaurants, when they start on Sauce, they'll start with a third-party approach, and then they'll say, "Wait a minute, this was seamless. It took me ten minutes of time. I didn't have to spend any resources of my team to set this up."
47:00
Matt Newberg
Wow.
47:00
Colin Webb
My managers didn't say anything when I started this across who knows how many number of locations, and it just worked. And it brought me better margins, brought me more sales, etc. And they say, "Okay, well, if this works so well here, can I do this on my first-party, or can I do this in store as well? I'm already setting the groundwork for these digital menu boards, for these kiosks, to be able to have the entire experience be digital, be something that changes as that restaurant changes, as the demand changes, as the consumers change. And so if I can imagine a story of going into a restaurant of the future, you might be able to come and walk into a restaurant, and because you walked in at noon on Wednesday, you might be kind of grouped in the Wednesday noon group, which might behave entirely different from like, the Friday evening group.
47:59
Matt Newberg
Right.
48:00
Colin Webb
And so you might have a completely separate menu item assortment or whatever. Right. When you authenticate into a digital menu board or when that digital menu board notices you might be able to see all of the items that you're likely to buy that you're likely to really enjoy. Let's say you're a vegetarian. Let's say you're vegan. You might not even see any meat items at all, because why should you? Why should you? And so I love apple pies. Maybe as I'm going through my checkout experience, maybe this digital menu board prompts me and says, "Hey, would you like an apple pie with that?" And I'm like, "I can't say no."
48:42
Matt Newberg
And it does a sweet price for you.
48:44
Colin Webb
Exactly. There's a sweet price for you. You can have an apple pie with that. And as most folks, even Shake Shack have quoted when rolling out digital menu boards, they are excellent at Upselling.
48:59
Matt Newberg
Right.
48:59
Colin Webb
They're like consistent every single time.
49:02
Matt Newberg
Right.
49:02
Colin Webb
And this is like V, one of digital menu boards in terms of it just asks you the same question every single time.
49:09
Matt Newberg
Right? It's just a flowchart.
49:11
Colin Webb
Exactly. It's not personalized in any way, but in the next two, three years, it will be. In the next two, three years, if you're ordering at Shake Shack, you might be able to see a personalized offer to you that is going to end up making you feel better, making you feel like this restaurant knows you. Like you're going to have a profile with this restaurant. Right. But then also making the restaurants like Shake Shack and those that take that step, like way more money and way higher customer retention, better experience for guests, etc.
49:43
Matt Newberg
No, I feel like this is straight out of some move. It's got to be like her or these different futuristic Sci-Fi films where you see someone walk into a store or those retail videos. You see retail concept videos where it's like a digital salesperson hologram coming out and they're like, "You want to buy these shoes?" Or we know your size and all that stuff. Yeah.
50:07
Colin Webb
Every restaurant is going to have their own Jarvis from Iron Man where you walk into the restaurant and it's, "Hey, Matt, welcome back. I've got your typical order right here. Would you like anything else with that?"
50:19
Matt Newberg
Yeah, totally. I mean, you can totally see it. So is that something that you think are you going to draw the line at pricing or are you going to help restaurants also navigate this personalization yeah, good question.
50:32
Colin Webb
Right now we're starting to dip a little bit into the promotion realm in terms of coupling dynamic pricing with smart promotions on delivery platforms to be able to gain more customers and get more customers to order during convenient times. Right. Which I think can go a long way. You're seeing now restaurants being able to sell into two markets. The market that can pay for delivery as an increasingly premium product because it is, but then also the market that is very price savvy in the market that is looking for discounts, wants to have that delivery experience, but will do the extra work to find the price that's within there that they're comfortable with. Right. I think there's a lot of power there in terms of where we go. There's so many different things that you can optimize with regards to the restaurant space and with regards to food sales.
51:29
Colin Webb
There's also so many problems in pricing that while these problems exist in restaurants, we also see these same types of problems in other tangential industries where whether it's convenience or whether it's groceries, everyone's coming online as an e-commerce company with a bunch of data, a bunch of technology, a bunch of prices that they're not the experts in. Right. And they don't have time to get that expertise really quickly. So why not use a system like Sauce to be able to price on your gas station or your grocery store? Right. And so I think there's a lot of different avenues that we can take here, both in pricing and the optimization space. We'll see what's to come.
52:14
Matt Newberg
You made me think about Instacart buying Eversight, I think, is the company. Right? So that's twofold, it's in-store prices that they're doing with those digital tags. And then it's also obviously the marketplace testing different prices.
52:29
Colin Webb
Which company did they buy?
52:30
Matt Newberg
Which Eversight. Eversight, right, okay.
52:33
Colin Webb
I'm not too familiar.
52:34
Matt Newberg
I think it's called Eversight.
52:35
Colin Webb
I see. Nice.
52:37
Matt Newberg
Yeah.
52:37
Colin Webb
So they so now they're doing in-store cool everything. Yeah, I mean, it makes sense. Makes sense. Makes sense.
52:47
Matt Newberg
So DoorDash has come out with some rules recently. I wasn't at Food on Demand. I think you were there. I think your panel was like that was like the thing I missed out on, apparently.
53:02
Colin Webb
Definitely.
53:03
Matt Newberg
This sounded like a controversial thing. I think there were some heads in the room. They came out with these guidelines that say you better keep your prices at parity with the in-store prices because DoorDash wants to be looked at as an affordable platform. So I guess my question is, as partners to all these different marketplaces, I'm sure everybody has generally the same feelings about things because their business models are fairly similar. How do you walk the line between making sure that their customers, meaning restaurants, have positive retention, that they aren't going to go out of business so they can improve their profitability? Like all those costs we're talking about, but also you playing by the rules. How do you escape by that?
53:49
Colin Webb
Yeah, so it's interesting because obviously there is a lot of press around DoorDash and restaurants needing to come back to price parity. On our side, we heard a lot of restaurants asking or saying, hey, look, DoorDash is telling us that we need to bring our prices down, otherwise they're going to rank us lower on their delivery platform, etc. And then DoorDash came out and said, hey, all of these rumors quiet down. Like, this is not what we meant. And they had a whole press release on the DoorDash page around how they're just making adjustments to their algorithm. And restaurants have complete freedom to price however they like, but they will prioritize restaurants that have lower prices, or that's going to be a factor in their algorithm, but not the only factor. And so I think you're starting to see in food delivery the same thing that happened in Rideshare, where for the longest time, the Ubers and the Lyfts, right.
54:53
Colin Webb
They're selling an amazing product, like the fact that we can order food and have it come to us in minutes.
55:01
Matt Newberg
Push a button, have a car come, is fantastic.
55:03
Colin Webb
The fact we can order to Uber and have it come to us in minutes is fantastic. But it is a premium product, is very operationally costly to maintain and I think the delivery companies are starting to the food. Delivery companies are starting to see that in terms of you've got a bunch of invested capital. You've been able to scale the market very broadly, but now you've got to make money. And in order to make money, you have to have certain metrics on your platform that allows so you have to have a certain amount of order volume that restaurants are receiving. And you're starting to see kind of a collision between everything that the restaurants are facing, but maybe even the problems that a major delivery company is facing as well. Where restaurants are facing these high food costs, they're facing the high cost of delivery commissions.
56:01
Colin Webb
The delivery commissions are high because actually driving someone their food as a personal service, it's a luxury service, but we all have access to it now, but it still is a luxury service. And so what do you do there? You start to split up the pricing into different tiers. Those who can pay for that luxury service and have more money to pay for it, but then also those who you might offer more discounts to. Right.
56:30
Matt Newberg
Yeah.
56:31
Colin Webb
You can't just be in one market. You've got to be in multiple. And so I think for any major delivery platform not saying DoorDash in particular, but for any major delivery platform, they're thinking about things like this, and they ought to be thinking about things like this. And they're probably going to end up taking the same path that Uber ended up taking and that Lyft ended up taking, literally adding dynamic pricing to their businesses and having that be something that generates billions of dollars because it eases this pressure that they're probably under. Right. It allows them to sell their standard delivery product. It also allows them to sell higher. It allows them to sell lower. It allows them to essentially better for the restaurants and better for the consumers.
57:15
Matt Newberg
No dead weight loss, as my high school econ professor would say. Right. When you were talking about that, I thought about that lawsuit of someone that had their kid basically use android and compare it to an iPhone on DoorDash, and they're like, here's a consumer complaint that DoorDash is like making. Android says that Android customers can't afford as much as the iPhone users, and they're just charging an extra $2. I was dying.
57:47
Colin Webb
Yeah, I'm not familiar with that one, but yeah, that made him interesting.
57:53
Matt Newberg
Okay, you kind of touched on this, but from my vantage point, I'm looking at this stuff every week. But it's know in New York, we have not only fee caps, but minimum wage legislation that is pending, which is going to inevitably get born on the pass to the customer. Somehow, some way, it all ends up just costing more money. Like it's inevitable, right? If you look at groceries, it's all going to go get passed on to the customer.
58:24
Colin Webb
Right.
58:24
Matt Newberg
There's no margin for restaurants. There's no margin for grocers. There's definitely no margin for the third party delivery companies. They're not paying it, and they're the middleman, so they can just pick which side they're going to bear the who's going to bear the cost. So I guess my question is, you're coming in here as another entity on top of this. How do you think you can alleviate these pressures?
58:47
Colin Webb
Yeah, great question. I think it really is a sign of kind of the elevation of the market for food delivery, where, yes, these costs of delivery drivers, right? Labor costs are affecting both delivery drivers, but then also restaurant employees who rightfully they need to be able to earn a living that they can survive off of, but for them to cook and deliver your food, that comes at a cost. Right. And if you want food while sitting at your house watching Netflix, not leaving your house at all, then you're going to have to pay for somebody to actually deliver that to you, and the restaurant is going to have to pay for the person that cooks the food. Right. And so naturally, you're going to see the prices of food continue to rise. We've already seen inflation, but you're going to see that inflated food price continue to rise.
59:42
Colin Webb
And so delivery is just going to become a more expensive product. Food deliveries online, food is going to become a more expensive product. What do you do there? Well, you either allow it to be a more expensive product, and you price out half of the market that can't quite pay for that more expensive product, or you divide that market into segments of folks who can and are willing to pay for this premium experience. And then the folks who want to get discounts. And that may look something like we had a restaurant that was looking at sauce and looking at ways that they could essentially discount if people ordered ahead of time.
01:00:32
Matt Newberg
Better for the restaurant.
01:00:33
Colin Webb
Exactly. So you're going to start to see consumers start to think about food ordering the same way that you might think about flights, same way that you might think about Uber or Instacart, right. Where if you place a wait and save on Uber or for Lyft right. Or if you order your flight ahead of time, you're going to get a discount. Maybe if you order your food in the future, you place an order between ten and 11:00 a.m. Before the lunch rush. You can get 20% off.
01:01:01
Matt Newberg
I do that here, by the way. We have a sweet green outpost. Nice. And I don't have to pay. I pay like, I don't know what, a dollar for the delivery, because it gets batched. But the caveat is, like you said, I got to place it by 1030.
01:01:13
Colin Webb
So rather than being entirely priced out of the market because all of these costs are raising, because labor costs, food costs, etc, are raising, now, you can actually have that segment of consumers stay within the market and know exactly when to purchase and when to get their service. So I think it's ultimately what we're working on is going to be super powerful here.
01:01:35
Matt Newberg
So we're moving away from the 15 minutes delivery to, like, the 15 day delivery or the day before.
01:01:44
Colin Webb
Maybe not necessarily the day before, but maybe you'd end up placing an order in the morning or between meal periods.
01:01:52
Matt Newberg
For example, to get no, there's no reason to do it on demand. Right. Unless you're that compulsive. And I think it's not good for most of the parties. I think everyone would benefit with a little bit more planning. Yeah.
01:02:07
Colin Webb
I mean, on demand delivery is increasingly becoming a premium product.
01:02:12
Matt Newberg
Interesting.
01:02:14
Colin Webb
Rather than price the market out of it, some people are going to be totally fine. Maybe all the entrepreneurs, the folks making a lot of money are going to be totally fine doing this.
01:02:23
Matt Newberg
Yeah. They're like, I got my resi notify on, and if I don't get the preservation, I'm ordering my salad.
01:02:29
Colin Webb
Yeah. They're going to place on demand every single time. They won't bat an eye. But for the folks that are certainly very price conscious, they can still order. They're just going to have to order at times that they can get a discount. Right.
01:02:44
Matt Newberg
So it sounds like the marketplaces will become more price elastic. There'll be more elasticity as these pressures continue.
01:02:51
Colin Webb
Exactly. And I think it's going to expand the accessibility of these delivery marketplaces.
01:02:58
Matt Newberg
Yeah.
01:02:58
Colin Webb
Interesting, because more people will actually be able to find the discount that they want.
01:03:02
Matt Newberg
Right?
01:03:05
Colin Webb
Yeah. My, like, $1 megabus, you know?
01:03:07
Matt Newberg
Exactly.
01:03:08
Colin Webb
That gave me, like, one more trip to Philly than I intended to make.
01:03:15
Matt Newberg
Love that well, this has been super fun. Definitely expanding my mind and really making me think a lot about the future here. And it's very exciting. So thank you for sharing.
01:03:28
Colin Webb
Thank you as well. Great visionary questions. It's been really fun.
01:03:32
Matt Newberg
So yeah, now's your time to plug away. If you have restauranteurs listening to this, hopefully. How do they get started? Smart engineers. Marketplaces? Well, not marketplaces, but like any tech partners, they all could be listening. So now is your time to plug away.
01:03:53
Colin Webb
Yeah. If you're dealing with rising food costs, if you're dealing with delivery platform commissions, if you want to be more profitable, you want to be more successful, gain more orders, more sales, convert more customers on delivery, then absolutely you should be doing dynamic pricing. And sauce is the leading dynamic pricing platform that allows you to spend less than ten minutes of your time connecting your either Olo or Chowly.
01:04:19
Matt Newberg
It's.
01:04:20
Colin Webb
Checkmate otter toast square handful of platforms and essentially leveraging the power of data-driven pricing and data expertise. Most of our restaurants set it up literally within that ten-minute time period and let it run on its own. So you're super busy, probably running around trying to fix all the different problems that you have on a day-to-day basis in your restaurant, but this can help you literally double your profit margins and grow tremendously.
01:04:51
Matt Newberg
Amazing.
01:04:52
Colin Webb
Try it out.
01:04:52
Matt Newberg
So how do they get started?
01:04:54
Colin Webb
Yeah, they can get started at saucepricing.com.
01:05:01
Matt Newberg
Okay. And then what about jobs you're hiring for or partnerships?
01:05:05
Colin Webb
Yeah, we actually just announced a I haven't even announced it yet, but just have a job posting up for an enterprise sales leader to help us on the enterprise side. So anyone that's interested in joining on the enterprise side can definitely send me an email. Colin -at- saucepricing.com.
01:05:26
Matt Newberg
Colin.
01:05:26
Colin Webb
With one l. With one L. Right@ saucepricing.com. Or shoot us a note on LinkedIn.
01:05:32
Matt Newberg
Cool.
01:05:32
Colin Webb
And then yeah, we'll happy to chat.
01:05:35
Matt Newberg
Amazing. Well, this has been a lot of fun. Thank you for your time.
01:05:37
Colin Webb
Yeah, thank you as well, Matt.
01:05:38
Matt Newberg
Thanks for tuning in. If you like what you hear, please hit subscribe wherever you're listening to this podcast. And if you're curious to get a firsthand look at the cutting edge of food and tech, check out Hungry TV. Be that's hungry with no you where you can join in on live conversations like these or sign up for the free weekly newsletter.